DE-BULLSHIT YOUR INBOX (AND LIFE) WITH WEDNESDAY WISDOM
Every Wednesday morning since July 2018, ambitious high achievers enjoy a powerful dose of no-nonsense AHA! to revolutionise the way they think about work and life.
If you're bored of cliched #inspo, motivational platitudes and dude-bro dreariness, you're in the right place.
Join 11,000+ clever, curious subscribers getting a cool blast of mid-week sanity.
We talk careers, personal development, productivity, business, and generally staying sane in a world designed to make that hard. If you're ready to take control of your life and career, get in.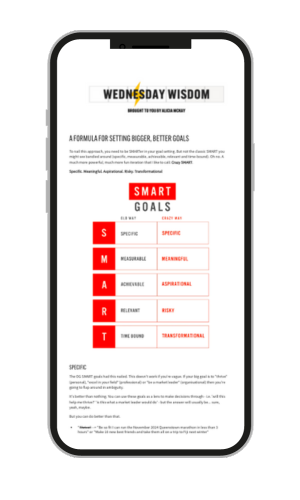 ⭐️⭐️⭐️⭐️⭐️
"Alicia McKay is the common sense guru I never knew I needed. Her advice and tools are instantly applicable and relatable. Exciting, accessible, challenging to the status quo and so darn inspiring."
BRIDGET
⭐️⭐️⭐️⭐️⭐️
"So inspired by your courageous leadership and role modelling. Your writing is always compelling and often confronting in a way that makes me squirm and gets me out of my comfort zone."
CHRISTOPHER
POPULAR ISSUES
Here's a collection of recent Wednesday Wisdoms people loved. If you love them too... join us.